Smartphone apps replace both GPS devices and MP3 players, freeing up dashboard clutter when you're driving, because you can bring along one device instead of three. But traveling light is only one benefit of replacing hardware with apps. The other big advantage is that these various functions can be integrated in new ways to do things that their more expensive standalone hardware equivalents could not.
Take the Slow Down app, for instance. The work of a Belgian parents' group called Ouders van Verongelukte Kinderen (which stands for "parents of children killed in traffic accidents" in Dutch) and Lucky Frame, Slow Down keeps an eye on the driver's speed using GPS while playing back music from the iPhone's locally-stored collection. To discourage speeding, the app slows music playback down to a crawl when speed exceeds 50, 90 or 120 kilometers per hour, indicating that the driver had better slow his or her roll.
GPS is hardly an infallible indicator of speed at any given second, as noted by Engadget (which may not have installed this free app, because it didn't know whether the app works outside of Belgium — which it does, albeit in kilometers per hour). Still, assuming the developers at Lucky Frame figured out how to judge speed at appropriate intervals, this app should be capable of what it claims. (I've only tested it while moving zero kilometers per hour, when it worked as advertised.)
Here's a video of Slow Down in action:
This is not OVK's first foray into the world of app-derived safety. The company also offered a since-discontinued app that allows users to send each other a special link to a video about a car crash being caused by text messaging, to make people more aware of the danger of driving while talking on a cellphone. The twist: the recipient's own phone rings, and if they answer it, they cause a car crash within the video: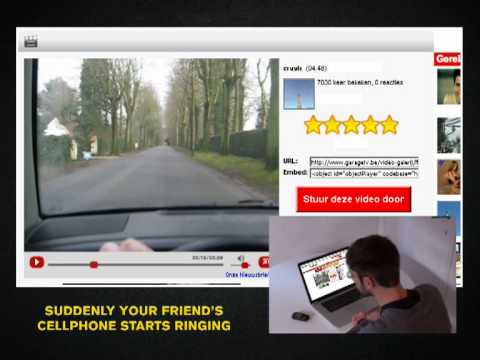 Check out the latest version of Slow Down for the iPhone – now with playlist support.