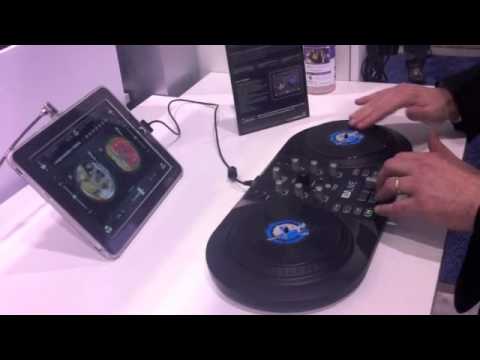 LAS VEGAS, NEVADA — Apple notoriously spurns the Consumer Electronics show every year, but that doesn't stop manufacturers from touting all sorts of gear designed to work with Apple's devices. Take this Numark iDJ Live, for instance — a hardare peripheral for the iPad with two turntables and a mixer, which controls a DJ app on the iPad.
The whole set-up is fairly compact, and looks fun to use, almost like a toy. But as the above video demonstrates, it's actually a fairly powerful DJ set-up that responds quickly to the mix master's wishes — scratching, cross-fading, setting cue points and tapping the touch-sensitive vinyl to stop it from "spinning."
Numark has used Apple's products as the brains for a DJ set-up before — Numark's iDJ and iDJ2 — both of which let you access and DJ the songs on a docked iPod. But the iPad's large screen and ability to run apps rather than merely acting as a repository for music make the concept truly viable.
The best part: the iPad acts as the brains, processor and touchscreen of this system, so really, all you're buying is the hardware shell. The Numark iDJ Live costs $99. (This article originally reported that this device was sold by Ion, but it's from Ion's sister company Numark, which shared the same booth.)