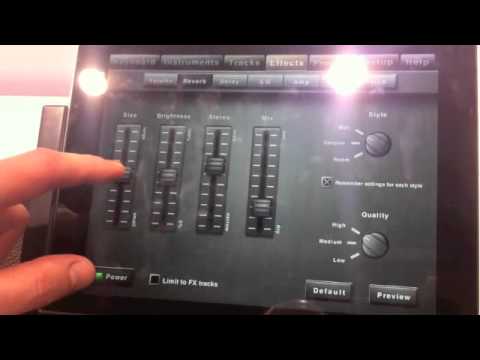 Like Ion's iDJ Live, the company's Piano Master hardware uses the iPad as the brains for a hardware music device: in this case, a piano with super powers. In addition to the standard piano sound, Piano Master includes a nice variety of sounds you can play instead, from strings to chorus to fuzz synth, with a healthy selection of filters, equalizers and envelope editors for tweaking the sound.
Ion didn't have to include controls or a processor for any of that stuff, because all of it lives on the iPad, which docks into the Piano Master in landscape mode, giving you touch-sensitive access to all of the controls.
Of course, if you know what a piano looks like, you know that the iPad in the video above is approximately where sheet music would normally rest. Clearly, the potential is there for Ion to sell sheet music within this app, so that people who know how to play can read along, but honestly, most proficient pianists will probably prefer something a little more hefty, with more octaves and life-sized piano keys. (The Piano Master plays nicely, but doesn't approach the level of realism of, say, a Yamaha Clavinova.)
We picture parents buying an Ion Piano Master ($269) for their kids to play around with, because it's way cheaper than an actual piano, not to mention smaller. Before Ion releases the Piano Master ($269) in late spring, the company plans to integrate educational features from an unnamed third party, allowing kids to learn to play before graduating to a piano without a screen.
Update: Ion Piano Master is core MIDI compatible, and will be usable with third-party music apps.