The Music Hack Day series, where brainiacs, dreamers, entrepreneurial-minded tinkerers and other engineers gather to build new music products within a single day, stopped off in Cannes, France this the past weekend as part of the Midem music industry conference, an annual event where music industry and music technologists gather to hobnob, debate the future, do deals, and — as of this year — hack together new music technologies.
The Cannes Music Hack Day at Midem crew, made up mostly of individual hackers and companies with open data APIs ripe for the picking, busted out ten music hacks at the event. This is an impressive tally, because as with all other Music Hack Days, everything pretty much gets built over a single weekend and yet has to be functional enough to be demonstrated at the event's conclusion. Even more impressive: due to limited space, this instance of Cannes Music Hack Day was limited to only 20 participants, whereas normally hundreds of hackers take part.
Without further ado, ladies and gentlemen, introducing, in alphabetical order, the first five of the ten total music apps spawned by Cannes Music Hack Day at Midem 2011 (update: see also part two of this story):
"When robots fight, people win," a jingle-writing friend once wrote. His theory certainly holds true for Dance Fight (public version coming soon), which describes itself as "a real-time dance battle game… with robots," and whose goal is to determine which of two players listens to the most danceable music.
To play, both users must have Last.fm accounts with scrobbling enabled, so that their listening habits from a variety of services (iTunes, Spotify, etc.) have been accumulating there. Dance Fight checks the players' Last.fm profiles to figure out which songs they have listened to the most, listened to in the last six months, and "loved" on Last.fm, then runs a selection of those tracks against The Echo Nest's Danceability index (disclosure below), which reflects the songs' "beat strength," and "tempo stability" and other things.
Players must battle their ways through a number of rounds. The robot belonging to the player who listened to the most danceable music is then declared the victor.
In the olden days, and to this day in certain music-obsessed enclaves, people flip physical objects called records in order to hear the flipside. Likewise, iPhones and other smartphones can tell when you've turned them over.
Combining this unexpected commonality between yesterday's vinyl records and today's smartphones, Double A-Side flips digital singles over to another "A-side" when you turn over your iPhone so that its screen faces the ground. Now your iPhone is just like a vinyl record! Sort of.
When it goes live, Double A-Side will be be available here.
What a place sound like? We've seen a few apps attempt to answer that question, including MusicMapper and Soundtrackr, but Geotracklist, assembled over a weekend at Midem Music Hack Day, takes a different approach from either of those. Enter your Last.fm profile name (or, indeed, anyone else's) and click "Allow" when the site asks if it can use your location, and you'll be presented with a playlist based on your taste in music as reflected by Last.fm and the bands based closest to your current geographical location.
Songs only play for 30-seconds, but if you hear something you like, you can click through to Amazon or iTunes to buy the track; Grooveshark or Spotify to hear the whole song; or MusicBrainz for nuts-and-bolts song information.
Each time I entered my name, I was presented with a different list of songs, so there's some amount of randomness within the system — either that or I listen to too many artists based here in New York.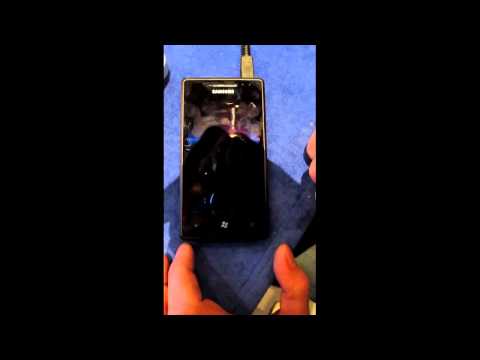 This mobile app was designed with one thing in mind: educating you fast enough — and portably enough — that you can learn everything you need to learn about a band to fake your way through being their biggest fan, even if you're on your way to their show.
Enter the artist name, and this mobile app for Windows Phone 7 (other smartphones possibly later to come) hooks you up with a remarkable set of information: the artist's biography; nearby, upcoming concerts (map and directions included); track playback for each song, lyrics included; and "most importantly, the most probable setlist for his next concert (yes the one you have to attend)."
To do all of this, it uses Last.fm and MusicBrainz to figure out which songs are most likely to end up on the setlist, SongKick for venue information, and MusiXMatch for lyrics.
You'd better remember those lyrics and remember them quick, because if not, the stick man gets it.
In this music nerd version of the popular pen-and-paper game Hangman, created by 7digital product manager Filip Denker, those who pre-order an artist's album from 7digital can win a free track from that artist's back catalog by entering the lyrics to that song in time to save the stick man from the dreaded gallows pole.
Stay tuned for Part 2; there's plenty more where these came from.
Disclosure: These apps use a mix of APIs (Application Programming Interfaces) from 7digital, Flickr, Last.fm, MuseScore, MusicBrainz, MusiXmatch, SongKick, SoundCloud, The Echo Nest and others. The Echo Nest publishes Evolver.fm.