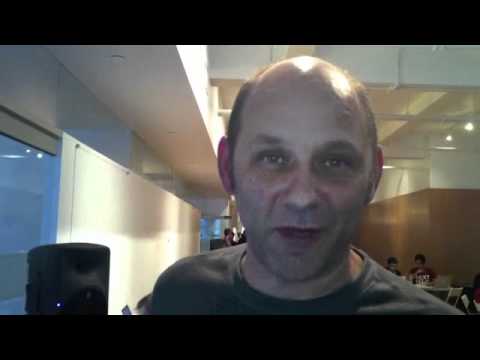 Televisions are set to become the next killer app platform, following the mobile phone and the tablet, because it's big, centrally-located within the home, and usually connected to the best speakers in the house. Music service MOG is one of many companies looking forward to consumers paying for music subscriptions for playback on their surround sound systems and televisions.
And because the whole system is networked, smartphones, web browsers, and any other connected interface can control what's playing. MOG product manager Lucas Gonze (also of Playdar fame) showed us the second functioning hack we've seen during the early stages of Music Hack Day New York, as software and hardware hackers race to complete their projects in time for tomorrow's waiting-list-only demo presentations.
This hack is still in a fairly early form, because music fans don't want to cut and paste unique song identifiers into a form every time they want to hear a song. But it shows that MOG is well on its way to launching a web-based interface to its Roku set-top-box app, displaying all of the relevant data on the user's television.
You saw it here first, which shouldn't be the last time that happens this weekend. Stay tuned for news and videos of more projects from Music Hack Day New York as the weekend progresses.