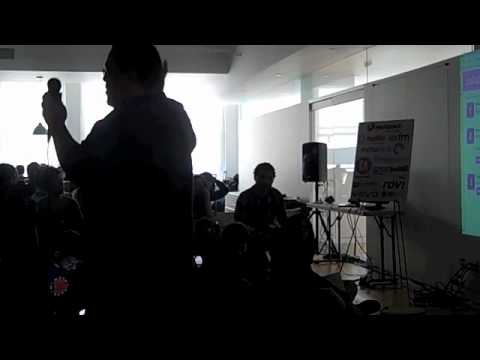 One of the many great ideas to emerge fully-formed from Music Hack Day New York, Callaboraoke automatically splits songs onto segments, inviting groups of friends by email to sing each of the lines of the song via cellphone.
The service records them doing so asynchronously (i.e. whenever they get around to it), then stitches their contributions together into one big Frankenstein creation and emails the resulting song to the group.
Created by Vevo vice president and lead architect Marvin Li and Vevo web developer Leon Yu, Callaboraoke is already up and running. So far, only five songs are available within this intriguing service: Beyonce's "Irreplacable," 50 Cent's "Many Men," Avril Lavigne's "Girlfriend," Akon's "Smack That," and Sean Kingston's "Beautiful Girls."
However, the concept makes a lot of sense, and it could easily be scaled to work with more songs. Callaboraoke works by pulling the lyric data for a given song from a MusiXmatch API, and chops up an audio file of the song based on how many people are participating and the timestamps of each lyric within the song.
Then, it uses a Twilio API to call each user so they can record their part. The lyrics on the web page updated in real time to reflect which parts of the song have been completed; when the song is done, everyone in the group can hear the resulting collaboration.