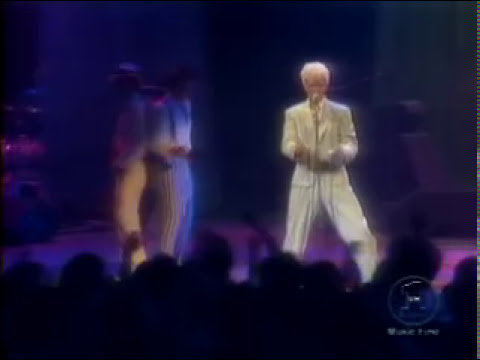 David Bowie plans to push the envelope once again this summer with an iPhone app that lets anyone remix his classic song "Golden Years" (live version above). The song's original producer Harry Maslin created eight stems for this app, which is only half of the song's original 16 tracks, but the inclusion of eight tracks will give fans a good combination of leeway and simplicity for creating their own versions and sharing them with friends.
In addition to listening to the pro's versions (below), you'll have two simple options for remixing the song when the iPhone, Mac, or PC app becomes available on June 6, barring change of plan: You can activate/deactivate stems at certain times and alter the volume of any stem — or just shake your iPhone to create a randomized remix.
Seasoned pros will bristle at this lack of options — the app won't include effects or the ability to introduce new samples, for instance. But for the average Bowie fan who's never remixed anything before — presumably the target audience — this seems to be about the right amount of functionality.
In any event, you'll be able to export the finished song as an MP3 and share it with friends from within the app. Stems include lead vocal, 12-string guitar, bass, drums, guitar, harmonium, percussion (including blocks, congas, claps) and backing vocals. To enable users to combine these in different ways, EMI/Bowie are relying on an iPhone version of iKlax Creator Series.
To coincide with this app's release, Bowie's label (EMI) will release an EP featuring several remixes by DJs from Los Angeles much-loved public radio (and web radio) station KCRW, as part of its SoundClash series.
All four of those remixes, by DJs Jeremy Sole (dub reggae), Anthony Valadez (a "darker," "militaristic" version), Eric J. Lawrence ("futuristic boogie") and Chris Douridas (a sparse, "eclectic" version), have been online since September. Check out EMI's video to hear the DJs talk about the project.
To those who might question the value of remixing a song in an app rather than just listening to it, one might answer with a line from this very song:
"Don't let me hear you say life's taking you nowhere."