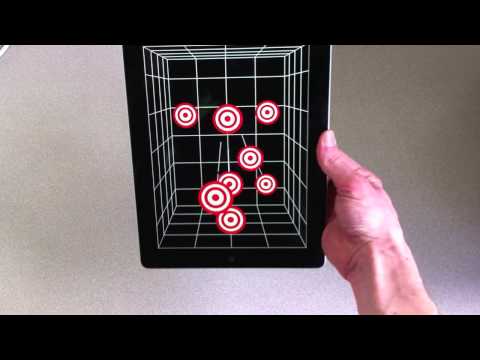 At least one music app developer we've spoken with has expressed excitement about the possibilities for navigating music libraries, playing virtual instruments, music games, and so on using apps that run on 3D televisions. But judging from the above video, developers will also be able to release similar apps for the Apple iPad 2 and iPhone 4, as well as any other devices that have a front-facing camera — no glasses required.
The clever folks at the aptly- if awkwardly-named Engineering Human-Computer Interaction Research Group devised the above, elegant solution for presenting three-dimensional space on a two-dimensional screen: It tracks the location of your head, so that when you move, an app can simulate a third dimension by adding the appropriate perspective to whatever appears on the screen.
They call the result "Head-Coupled Perspective." This could enable you to look "behind" album covers to see other album covers, peer into the background of a music video, shake the device to bring a new jumble of songs to the front of a pile, play 3D rhythm games, and so on.
So far, only one start-up (HiLabs, whose website is in French) has spun off from this research group, but the group says it "is particularly opened to novel ideas and to stimulating collaborations with both academic community and with industry." Ostensibly, this means it would be willing to work with app developers to help them build music apps involving Head-Coupled Perspective.
If so, this would be a big shot in the arm for 3D mobile apps. Even if you're willing to strap on one-style-suits-all glasses to watch 3D television in your home, you might not want to do so in public.
(via tuaw > PunchCut > ItsOlivia)