This list originally posted on October 6, 2011; reposted October 5 2012, a year after Jobs' passing. See also: Apple's video tribute, "Remembering Steve," followed by a message from current Apple CEO Tim Cook. 
At an industry event last night to celebrate the launch of a music app that runs on smartphones, tablets and now televisions, a breaking news push notification on my iPhone 4 alerted me to the sad news that Steve Jobs had lost his battle with cancer.
Everything I was doing at the time — and, arguably, in my career – can be traced back to the mind of Steve Jobs. Maybe that's why I stayed up last night reading about him for as long as my iPhone's battery could handle it.
Here's a summary of the best coverage I have found to mark the passing of a man who, with no exaggeration, altered the course of human history during its most singular period to date, when we encountered the personal computer, the internet, the web, smart mobile devices, paid digital content, and the app. Jobs was instrumental in each of these developments, and we won't see the likes of him again.
Wired.com's "Steve Jobs, 1955 – 2011":
…His dad, Paul — a machinist who had never completed high school — had set aside a section of his workbench for Steve, and taught him how to build things, disassemble them, and put them together. From neighbors who worked in the electronics firm in the Valley, he learned about that field — and also understood that things like television sets were not magical things that just showed up in one's house, but designed objects that human beings had painstakingly created. 'It gave a tremendous sense of self-confidence, that through exploration and learning one could understand seemingly very complex things in one's environment'…

In 2000, he explained how competitors still didn't understand Apple's mix of art and science. 'When people look at an iMac, they think the design is really great, but most people don't understand it's not skin deep,' he said. 'There's a reason why, after two years, people haven't been able to copy the iMac. It's not just surface. The reason the iMac doesn't have a fan is engineering. It took a ton of engineering and that's true for the Cube and everything else.'
TheWireCutter: "Steve Jobs Was Always Kind To Me (Or, Regrets of An Asshole)":
When [Jobs] called me back, the first thing he said was, 'Hey Brian, it's YOUR NEW BEST FAVORITE PERSON IN THE WORLD.'

I laughed and so did he. Then, he sharply pivoted and said, 'So what's it gonna be?'

I gave it to him straight: 'If you don't want to give us the letter claiming it, I guess it's going to be papers. It doesn't matter because one way or another we'll get our confirmation that it is yours.'

He did not like that. Steve said, 'This is some serious shit. If I have to serve you papers, and go through the trouble of it, I'm coming for something and its [sic] going to mean someone in your organization will go to jail.'
AllThingsD's "The Steve Jobs I Knew":
Earlier in the day, before Gates arrived, I did a solo onstage interview with Jobs, and asked him what it was like to be a major Windows developer, since Apple's iTunes program was by then installed on hundreds of millions of Windows PCs.

He quipped: 'It's like giving a glass of ice water to someone in Hell.' When Gates later arrived and heard about the comment, he was, naturally, enraged, because my partner Kara Swisher and I had assured both men that we hoped to keep the joint session on a high plane.

In a pre-interview meeting, Gates said to Jobs: 'So I guess I'm the representative from Hell.' Jobs merely handed Gates a cold bottle of water he was carrying. The tension was broken, and the interview was a triumph, with both men acting like statesmen. When it was over, the audience rose in a standing ovation, some of them in tears.
FirstPost's "Why Steve Jobs' Love Affair with India Ended Very, Very Early":
After his India trip, he concluded: 'We weren't going to find a place where we could go for a month to be enlightened. It was one of the first times that I started to realize that maybe Thomas Edison did a lot more to improve the world than Karl Marx and Neem Kairolie Baba put together.'
New Yorker's "The Next Steve Jobs (And The Last One)":
People keep asking who the next Steve Jobs will be, or who the last one was. I can't think of an example from business. But I can think of one from music: Miles Davis. Like Jobs, he was a showman who was also intensely private. Like Jobs, he was an authoritarian who brought people together. Miles was joined by Bill Evans and John Coltrane; Jobs was joined by Jonathan Ive and Tim Cook. And like Jobs, Miles changed his field over and over again. Jobs created the first graphical user interface, the mouse, the iPod, the iPhone, and the iPad. Davis created Bebop, modal jazz, and fusion. Listen to 'Birth of the Cool,' 'Sketches of Spain,' 'Kind of Blue,' 'Bitches Brew,' and 'A Tribute to Jack Johnson.' What do they have in common? Not that much—except that they are all awesome, they were all innovative, and they were all endlessly copied. Lots of people have one great idea; very few people have five…
Forbes' "Steve Jobs, Cancer Survivor":
…Jobs sought instead to treat his tumor with a special diet while launching a lengthy exploration of alternative approaches. 'It's safe to say he was hoping to find a solution that would avoid surgery,' says one person familiar with the situation. 'I don't know if he truly believed that was possible. The odd thing is, for us what seemed like an alternative type of thing, for him is normal. It's not out of the ordinary for Steve.'

Apple director Levinson, who has a Ph.D. in biochemistry, monitored the situation for the board. He and another director, Bill Campbell, tried to persuade Jobs to have the surgery. 'There was genuine concern on the part of several board members that he may not have been doing the best thing for his health,' says one insider. 'But Steve is Steve. He can be pretty stubborn.'
CNET's "How Steve Jobs Reshaped the Tech Industry"
Jobs was far from content. He talked with friends about focusing on cultivating his garden. He considered moving to the Soviet Union to promote computer usage. He toyed with the idea of running for the U.S. Senate… He bicycled through Tuscany.

Most of all, it seemed, Jobs wanted to prove that his earlier successes — the Apple II, II+, IIe, IIc, soon the IIgs, and the Macintosh — were not accidents. He hoped to demonstrate that he could do it again.
PaloAltoPatch: "My Neighbor, Steve Jobs":
While Newsweek and the Wall Street Journal and CNET continue to drone on about the impact of the Steve Jobs era, I won't be pondering the MacBook Air I write on or the iPhone I talk on. I will think of the day I saw him at his son's high school graduation. There Steve stood, tears streaming down his cheeks, his smile wide and proud, as his son received his diploma and walked on into his own bright future, leaving behind a good man and a good father who can be sure of the rightness of this, perhaps his most important legacy of all.'
Wall Street Journal: "Steven Paul Jobs, 1955-2011":
The most productive chapter in Mr. Jobs's career occurred near the end of his life, when a nearly unbroken string of successful products like the iPod, iPhone and iPad changed the PC, electronics and digital-media industries…

Mr. Jobs's pursuit of aesthetics sometimes bordered on the extreme. George Crow, an Apple engineer in the 1980s and again from 1998 to 2005, recalls how Mr. Jobs wanted to make even the inside of computers attractive. On the original Macintosh PC, Mr. Crow says Mr. Jobs wanted the internal wiring to be in the colors of Apple's early rainbow logo. Mr. Crow says he persuaded Mr. Jobs it was an unnecessary expense.
CultofMac: "How Steve Jobs Just Monetized Pirated Music":
'Napster trained people to download music and listen to it on their computers,' he says. 'This new service will help people become more comfortable with the idea of streaming their music. And that's what resets the whole music industry. Reeducating the consumers on how to listen to music.'
Michael Moritz' Return to the Little Kingdom book (via SplatF):
Jobs dropped his first LSD with Nancy in a  wheat field. 'It was great. I had been listening to a lot of Bach. All of a sudden the wheat field was playing Bach. It was the most wonderful experience of my life up to that point. I felt like the conductor of this symphony with Bach coming through the wheat field.'
Jobs on his decision to drop out from so-called "hippie haven" Reed College to sit in on the classes that interested him (various):
If I had never dropped out, I would have never dropped in on this calligraphy class, and personal computers might not have the wonderful typography that they do. Of course it was impossible to connect the dots looking forward when I was in college. But it was very, very clear looking backwards ten years later.

Again, you can't connect the dots looking forward; you can only connect them looking backwards. So you have to trust that the dots will somehow connect in your future. You have to trust in something — your gut, destiny, life, karma, whatever. This approach has never let me down, and it has made all the difference in my life."
PR Week's "Jobs pitched own Time cover stories, recalls Cook"
'He was the smartest CEO about PR that I've ever met. He knew how important it was and how powerful it was, and he was involved in every meeting that we had,' said [GolinHarris CEO and public relations professional Fred] Cook. 'Time magazine was his most important outlet. He managed it himself and he would always negotiate to be on the cover – that was all his own doing.'
Mix Magazine's "Steve's Impact on Audio"
Although those early computers weren't as cool for music makers as the Commodore 64 running Dr. T software, Apple quickly started moving toward heftier music production ability with the release of the IIgs in 1986 which included a 32-voice Ensoniq 5503, 'wavetable' sample-based music synthesizer chip, 64 kB dedicated RAM and 256 kB of standard RAM.

My first engineering experience with an Apple computer in the studio was when I worked on Kenny G's Breathless record in 1989. I had helped Kenny put his home studio together and got the call to cut tracks for the project after we got the room up and running. Kenny used Opcode's Vision running on a beefy Mac (IIci I think) to sequence his tracks which we then recorded onto a Mitsubishi 1/2″ 48 track digital recorder. Later, near the end of the project, Kenny upgraded to Studio Vision which was first product to integrate MIDI sequencing and digital audio editing and recording on any platform. It used Digidesign's Sound Tools and the rest, as they say, is history.
Washington Post's "Steve Jobs and the Idea of Letting Go":
In 2011, so much of our culture — as well as our politics — feels as though we're losing grip on the old, beloved things. Where did record stores go? What happened to letters that come in the mail? Where did movie theaters go? What about the books? Where is my Main Street? Where is my America?

Jobs had been teaching us to say goodbye to all that for decades — we just didn't know it.
Feel free to let us know if you have further suggestions.
Associated Press: "Wozniak Tearfully Remembers His Friend Steve":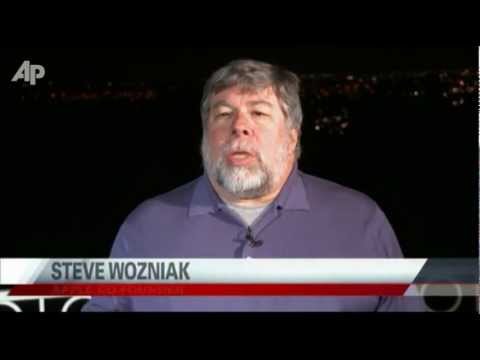 Stanford University: "Steve Jobs' 2005 Stanford Commencement Address":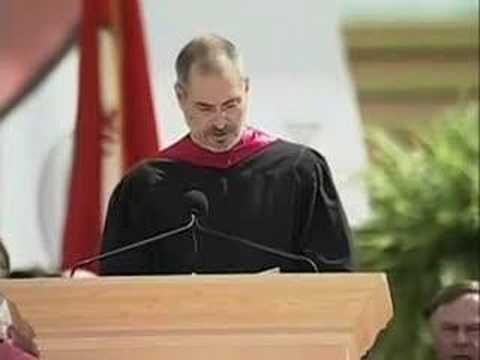 AllThingsD: "Bill Gates and Steve Jobs Highlights at D5″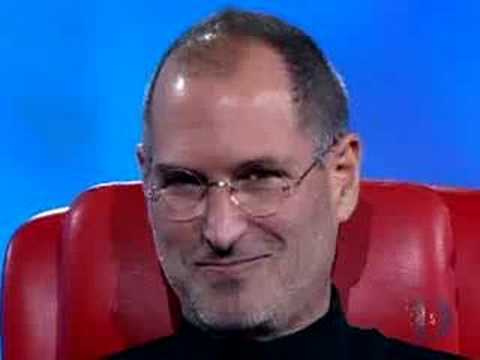 (Front page image courtesy of Flickr/acaben)